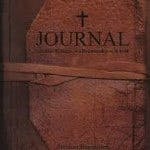 What is a Journal?
A journal is a helpful tool to enhance our spiritual life and a way that we can mark the journey. With time, a journal is a blue print of where we have been and where we ant to go, a record of our personal journey with God. It is a way that we come to know ourselves and to know God. Since we were made in the image and likeness of God, any effort to know ourselves will help us to know God and, vice-versa, any effort we make to know God will help us to know ourselves. Recording the facts of our life isn't half as important as recording our reactions and feelings toward them. In other words it is about the meaning the facts have on our life.
Why Journal?
It helps us to know ourselves better.
It provides a vehicle for saying  HELP and THANKYOU.
It helps us organize our thoughts and understand what they mean.
It enables us to take time out on a regular basis to make sense of our lives
It provides the space and time  to see what God is saying to us through all the events in our lives.
It encourages us to spend more time with Scripture and to record our insights.
It records our personal relationship with God and provides a way for God to speak to our heart.
If you write in your journal often your journal will reveal trends or clear words from the Lord that have the potential of changing your heart.
A journal grows more powerful as it is used.  The more we journal the more it reveals to us.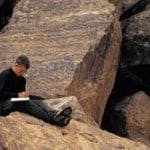 How do I begin?
If you are going to write on paper buy a journal that has a feel of importance about it or something you know you would enjoy writing in.  If you are journaling on a computer you might want to password protect the file so that only you can access that file.
 Set a time each day and self reflect on your life journey.  Begin by some quiet prayer and stillness, asking God to be present to you as you begin to journal.   Listen to your heart , hear the sounds around you and note what has been occupying your mind.
Date your entries so you can retrieve materials that you  entered earlier and you can monitor how you are progressing.
When you sit there ready to journal and have no idea what to write,

I always begin with all the things for which I am grateful.  I write what they are and how I feel about them.
I write about a dream that I had or an experience that is staying with me.
If you are feeling particularly anxious you might want to write a brief sentence describing what is happening in your life today.  Write anything that comes to mind.  Write the facts briefly and then make them a matter of prayer by pondering what they might mean to you.

Write fast, write everything, include everything.  Don't worry about grammar or your handwriting.   Write from your feelings, accept whatever comes to mind, and note the feelings in your journal.
Perhaps you might find it helpful to spend some time in a dialogue with yourself.  Carry on an imaginary conversation with yourself.  I have often had dialogues between my busy workaholic self and the part of me that desires a more quiet and reflective life.
Perhaps you might want to dialogue with God.  Carry on an imaginary conversation with God.  I might ask Jesus a question about my life or the Scripture and then imagine the response Jesus would give to me and write those words.  It is amazing how God reveals such unconditional love for us and how impatient we are with ourselves.
Perhaps  you might consider starting by pondering the Scriptures for today or prepare for the  Sunday Scriptures.  You can find them at this link:  http://www.usccb.org/bible/readings/022313.cfm.
You might want to keep your journal in a corner of your living space where you can be quiet.  It is always good to keep it along side your bible or by a favorite chair.
Some questions to get you started
Here are some questions to consider  as you begin to journal or when you just can't think of what to write in your journal.  Choose whichever one/s might be helpful:
Who am I, O God? and who are You?
What is the most important thing going on in my life right now?"
Begin with an image. "I am feeling like I am in the midst of a hurricane. "
Write all "the feelings" you have at this one moment. Feelings can often lead us to what is really going on within us.
What insights have I gained at this point in my  life?
Who has touched me most in my life?
In what ways have I touched others?  Who have I touched?
What prayers have I prayed.today or what prayers are most meaningful to me?  What answers has God given me to my prayers
With what personal struggles (e.g. with family, work, prayer, friends, finances, sexuality, leisure….) am I living?
What are some personal, spiritual and practical needs that are present within me and what am I doing about meeting those needs?
What insights and helpful passages have I found in the Bible?
What meaningful quotations from spiritual books, poetry, art, or the movies have touched me?
What is God saying to me about forgiveness, mercy, love?
Just who am I? What am I supposed to be doing?
What lessons have I learned in the school of life?
What experiences have I had in my life where where I was keenly aware of God or God's love, etc?
How is the Lord leading me?
 What disappointments, hurts, or suffering have I experienced and how have I dealt with it?
In what experiences have I been keenly aware of God's grace.
What daily events of personal or spiritual significance. have I experienced?
In what ways have I surprised myself?
Some websites that might be helpful:
How To Keep A Spiritual Journal
Rooted in the Gospel...We welcome all as sister and brother.