Coronavirus Update aAND THE HERMITAGES:
The Hermitages are open for all those who have been fully vaccinated.
Why hermitage?
In the Judeo-Christian tradition solitude has always carried a sense of intimacy with God. The prophet Hosea describes God "alluring" persons to the desert to speak to their heart. Psalm 46 voices God's invitation, "Be still and know that I am God." Jesus withdrew to deserted places both to make great decisions and to pray after particularly full days of preaching. In turn, he invited his apostles to do the same.
This revered practice of withdrawing into solitude has continued over the centuries as individuals and groups explored ways to engage in this deeply spiritual experience appropriate to their historical time and geographic location. For some it was traveling to wild, deserted places. For others it was withdrawing to a nearby mountain or simply a small designated room attached to a traditional religious site.
Our Hermitages
Our hermitages are located in Aston about a quarter of  mile north of the motherhouse. They are on the same property as Clare House within natural woods and sited in a way that treads lightly on the earth.  One hermitage is handicapped accessible from the parking area. Each hermitage is a single-dwelling room, 17 X 17 feet, equipped with air-conditioning and heat, offering an area for contemplation, eating, sleeping and bathing, as well as a private porch for outdoor reflection and prayer.
Bed, bedding, pillows, blankets, sheets, etc.
Closet with hangers for clothing, etc.
Towels, washcloth, bath mat, toilet tissue
Kitchen facilities such as:
Small refrigerator/freezer
Microwave, coffee pot, small pot, small frying pan
Cooking utensils, pot holders, dish towels/cloths
Dinnerware: plates, glasses, cups, flatware
Packets of sugar/substitute, creamer, salt and pepper
Trash can/plastic trash bags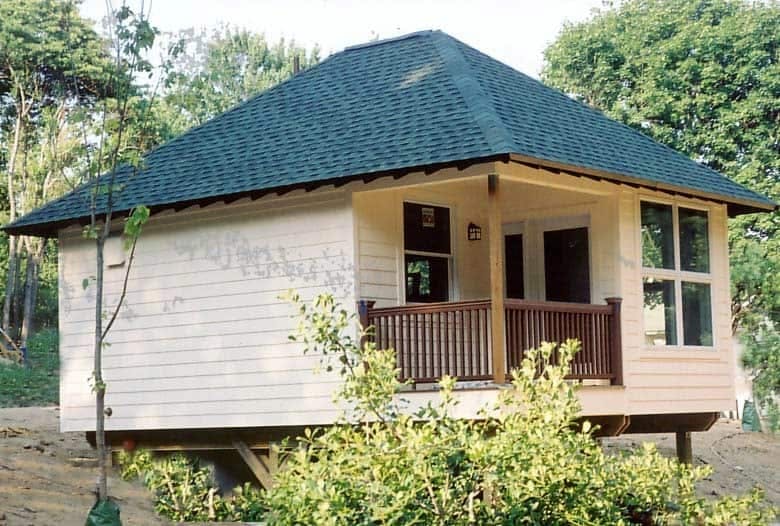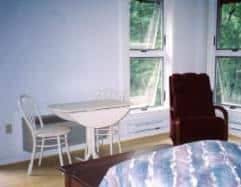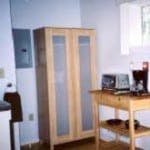 What you may want to bring
Toiletries (including insect repellent)
To assist you…
A folder in each hermitage provides:
Liturgy/Confession schedules
Directions to Area Churches
Locations and directions to local stores
FOR FURTHER INFORMATION OR TO REGISTER, PLEASE CONTACT HELEN BUDZIK, OSF AT 610-558-7674 OR EMAIL HER AT
hbudzik@osfphila.org or write to:
Franciscan Spiritual Center:
609 S. Convent Road
Aston, PA 19014
Phone: 610-558-7674

 The Franciscan Solitude Experience       
Franciscans bring a unique dimension to the spiritual practice of solitude as envisioned and lived by St. Francis of Assisi and his followers. St. Francis moved in and out of solitude with a profound sense of the integral relationship of all creation as brother and sister. Drawing on the gospel images of "Martha and Mary," he created a simple ten-verse 'rule" for those wishing to spend time in a hermitage experience to spend time in a hermitage experience which integrates solitude with relationship.
*There is also a Franciscan Solitude Extended Experience in June each year. Again, please see Events/Retreats to see when this experience occurs.
*For further information about the Franciscan Experience please contact Sr. Jean Ustasiewski at 610-5585372.
For the safety of yourself and others
The burning of candles and incense, as well as smoking, is not permitted.
We are sorry but pets cannot be accommodated.
Directions
(These Directions are to the main door of the Motherhouse (Our Lady of Angels Convent) where you must come to pick up the keys to the hermitage on the first night of your stay. If you have never been to the hermitage before, please wait to be escorted to the hermitage for orientation. The hermitage is a short drive from the convent.)
From North or South on I-95,
*exit at the Market Street Exit, Route 452 North toward Aston. At the 5th light (5-Point intersection) make a left onto Concord Road. At the next traffic light, turn right onto Convent Road. The convent is ahead on your right. (It is a large building with a large red dome.)
From North or South on Route 1,
** turn onto 452 South. Follow 452 South to Glendale Boulevard (at Barnaby's Restaurant). Turn right and at the stop sign, cross Legion Road. Continue through the next stop sign when Legion Road becomes S. Convent Road. The convent is ahead on the left.
Coming East on the Pennsylvania Turnpike, exit at Downingtown (exit 23). Turn left at the end of the ramp and follow signs to 202 South (Route 100 merges into 202 South). Follow 202 South to Route 1 North. Take Route 1 North **
Coming West on the Pennsylvania Turnpike exit at Mid-County (exit 25A). Follow 476 South to the Lima/Springfield exit (Route 1 South). Take Route 1 South.**
Coming from the New Jersey Turnpike or I-295 – take exit 2 from the Turnpike or take the Commonodore Barry Bridge Exit if on 295, follow 322 West and cross the Commodore Barry Bridge Continue on 322 West to 452 North. Continue with directions * above
Before going to the hermitage please report to the Main door of the Motherhouse (609 S. Convent Road, Aston, PA 19014) to pick up your key. If you've never been to the hermitage before, please wait to be escorted to the hermitage for orientation. The physical address of the hermitages is 608B Legion Road, Aston, PA 19014.
Rooted in the Gospel...We welcome all as sister and brother.