A Typewriter Artist
This is a story about an extraordinary man named Paul Smith who has a severe disability (Cerebral Palsy) but he creates unbelievable art by using a typewriter.  This is a story that will amaze you and for me, at least, it helped assess my own attitude and question why I don't have the same desire to use my creative side.
The Christmas Story
You might enjoy this skit.  The story of Christmas as told by the children of St Paul's Church, Auckland, New Zealand. Anyone is welcome to show this film publicly, but not change it in any way, publish/broadcast it, nor make money out of it.
Richard Rohr — One Minute Wisdom on Vulnerability
Richard Rohr is asked what one minute wisdom would he share  if he had the whole world for an audience during this one period of time. He answers that he would talk about vulnerability, particularly the vulnerability of those who work in hospice and the privilege of sharing those end days with others.  It is at that time that we are most authenitcally ourselves and we get to share most authentically with others. It is a time when the veil between our worlds is most thin and we touch the heart of God's love.
Oprah Winfrey interviewing Jean Houston who is 75 now
Jean Houston  is an American scholar, lecturer, author, and philosopher active in the "human potential movement". She has been an adviser to political leaders and to UNICEF, and since 2003 has worked with the United Nations Development Group training leaders in the new field of Social Artistry.  In this short clip Oprah talks to her about being 75.  Jean Houston says  getting older awakens you to your higher purpose. Watch as she reflects on being 75 and the hardest lesson she had to learn. Plus, find out why she says life got really good at age 60.
Sister Cora's Last Lesson:  A Powerful Teaching from an Unlikely Source
(A story about a Alzheimer Patient by Barbara Kramer)
"Here's something you might want to do," said my husband, as we left church one Sunday. He pointed to an item in the parish bulletin: Has your life ever been touched by the Sisters of St. Joseph? Would you like to return the kindness? It went on to ask for volunteers to help out at the local nursing home for the retired nuns from the order.
The Sisters had staffed the Catholic schools in our area for many years and taught all three of our children. They had also shown me great kindness when I was growing up. My mother died when I was eleven, and for the next two years, the Sisters had taken me into their boarding school and under their wing, giving me the support, kindness, and direction that I needed.
That bulletin came at the perfect time. Our last child had just gone off to college, and our family "nest" was feeling very empty. Volunteering at the nursing home seemed like just the thing to do.
"Yes, But …" I had one stipulation, though, and I told God about it as I drove to the home for my first interview: "Lord, I will gladly read to these Sisters, listen to them, do little things for them. But there is no way that I can help anyone with Alzheimer's disease."
I had too many memories of my grandmother, whose final years were marked by severe dementia. She had always seemed so angry, and I was terribly afraid of her. On a deeper level, though, diseases like Alzheimer's were too disturbing to me. Why did God allow these things to happen—especially to people who had served him faithfully? How could anyone who had lost their sense of identity possibly serve his purposes?
None of this came up in my interview with Sr. Sheila, the volunteer coordinator. We had a pleasant conversation, followed by a tour of the home. It was shining clean, and the residents were obviously well cared for. I was impressed and said so. "Good," said Sr. Sheila. "Can you help in the Alzheimer wing on Saturday afternoons?"
My heart sank. My mind said, "No! No, I can't!" And yet, to my great amazement, I heard myself saying, "Yes, I can try."
Teacher and Student. The next week, I was shaking in my boots as I reported for duty at the Alzheimer wing. Sr. Sheila introduced me to the twenty or so nuns there. They were in various stages of physical and mental deterioration. Much to my surprise, however, they were not angry. They were welcoming, peaceful, and kind. With unquestioning acceptance, they took my hand as we walked into the activity room.
My role was simply to be with several of the Sisters—to sit and talk, give them what they needed, and make sure they didn't leave the building. The work was challenging, yet satisfying. But as the weeks went by, caring for one Sister in particular became my biggest challenge.
Sr. Cora (not her real name) was a feisty, vigorous, and rather gruff woman who seemed to delight in finding ways to elude my watchful eye. At the same time, she always seemed glad to see me. I, for my part, became very fond of her.
During the early stages of her disease, Sr. Cora still acted in character. A former teacher at an all-boys school, she would inform me in forceful tones, "I'm going to the principal's office now. You stay at your seat. I'll be right back." And she would march grandly off, scolding me like a naughty student when I tried to stop her. But as her disease progressed, even the teacher in Sr. Cora faded and then disappeared completely.
The Picture on the Wall. Sr. Cora usually repeated the same things over and over. But one day, as the two of us sat visiting in her room, she began speaking with unusual clarity.
"No one ever liked me, you know," she said in a confiding tone. "My family was probably glad to get rid of me when I joined the convent."
Stunned, I tried to protest. "Sr. Cora, that can't be. You must have had a cousin or an aunt or friends who liked you."
"Nope, no one," she answered. Then she hesitated. "Well, okay, there was one person who liked me—but I don't remember his name."
"Was he a relative? A friend?"
"I told you I don't know!" she replied in a loud, impatient voice. "But if you're so darn curious, just turn around. His picture is on the wall behind you."
I turned, expecting to see a photo of a favorite uncle or grandfather. There instead was a familiar picture of a man with a kind and loving look. Tears were running down my face as I exclaimed, "Sr. Cora, that's Jesus!"
"I told you I can't remember his name," she said. "But I'm telling you, he was always around when no one else was. And he always took good care of me."
I was speechless. Sr. Cora's deteriorating mind had not lost her sense of Jesus being with her. Suddenly, I could see that he was still with her, even as her faculties and sense of self kept slipping away.
Whatever happened, Sr. Cora would never lose her identity as a beloved child of God. And neither would she lose her ability to serve God's purposes. Without even knowing it, by bearing witness to Jesus' presence in suffering, she was still doing God's work. Sr. Cora was still teaching. And I felt honored to be her student.
Barbara Kramer lives in Portage, Michigan.
You are a work of art, more precious to God, than you can ever imagine.  You have mellowed into a precious commodity of love that reflects all the goodness of your years.  You can choose not to believe it or you can live filled with joy that you and a God of extravagant love co-created such a good and loving person named you.  Cherish the gift of yourself and be willing to share all of yourself with all you meet today.  You are a work of art.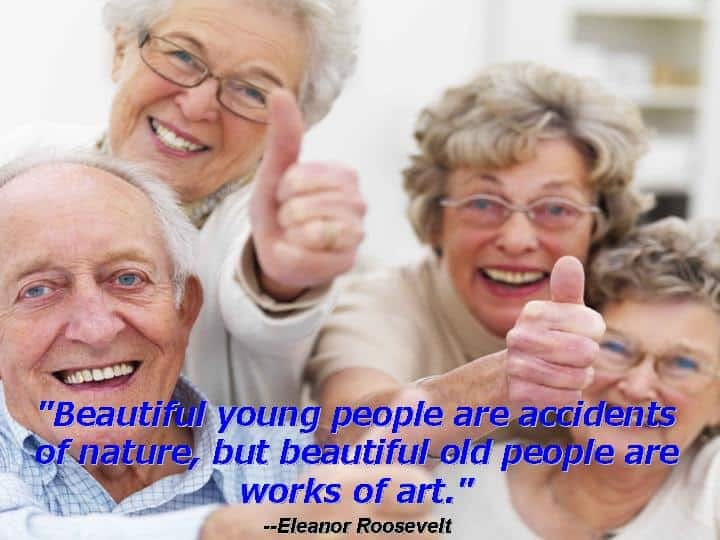 Words of Wisdom to Consider Today:
GRUDGES ARE A WASTE OF PERFECT HAPPINESS
YOU HAVE TO TAKE THE GOOD WITH THE BAD
ALWAYS FORGIVE BUT NEVER FORGET
LOVE DEEPLY AND FORGIVE QUICKLY
AND LET GO OF WHAT YOU CAN`T CHANGE
LIFE IS TOO SHORT TO BE UNHAPPY
TAKE CHANCES, GIVE EVERYTHING
AND ALWAYS REMEMBER WHAT YOU HAD
PEOPLE CHANGE, AND THINGS GO WRONG
A Poem by Rumi on Aging
that might be a good source of reflection for us…
Why does a date-palm lose its leaves in autumn?
Why does every beautiful face grow in old age?
Wrinkled like the back of a libyan lizard?
Why does a full head of hair get bald?
Why is the tall, straight figure
That divided the ranks like a spear
Now bent almost double?
Why is it that the
Lion strength weakens to nothing?
The wrestler who could hold anyone down
Is led out with two people supporting him,
Their shoulders under his arms?
God answers,
"They put on borrowed robes
and pretended they were theirs.
I take the beautiful clothes back,
so that you will learn the robe
of appearance is only a loan."
Your lamp was lit from another lamp.
All God wants is your gratitude for that.
Some ideas for reflecting on this poem:
For Rumi, aging might be that moment when the real of God's love within us is most apparent because all the externals that defined us are moving away from us.  We might need to look at ourselves and see  the lamp that is lit within you.  You might want to do some reflecting on that idea in your quiet moments.  You might even want to write it down in a little notebook for yourself.  Here are some questions to help your pondering:
What clothes were on loan for me and how did they define me?
When the externals become less important where is the real beauty within me?
What lamp has lit my light and how does it shine within me?
In what ways might I express my gratitude for the REAL that God has created within me and how can I let it shine?
Rooted in the Gospel...We welcome all as sister and brother.